May 2022
Mariko: Today we have a special guest, Elie from the land of the rising sun. A mild mannered gentleman, representing NERDs at our headquarters in Kyoto, Japan.
Mariko: Please introduce yourself and what your role is at NERD.
Elie: My name is Elie, and I'm working in the Robotics team. I am a Software Engineer.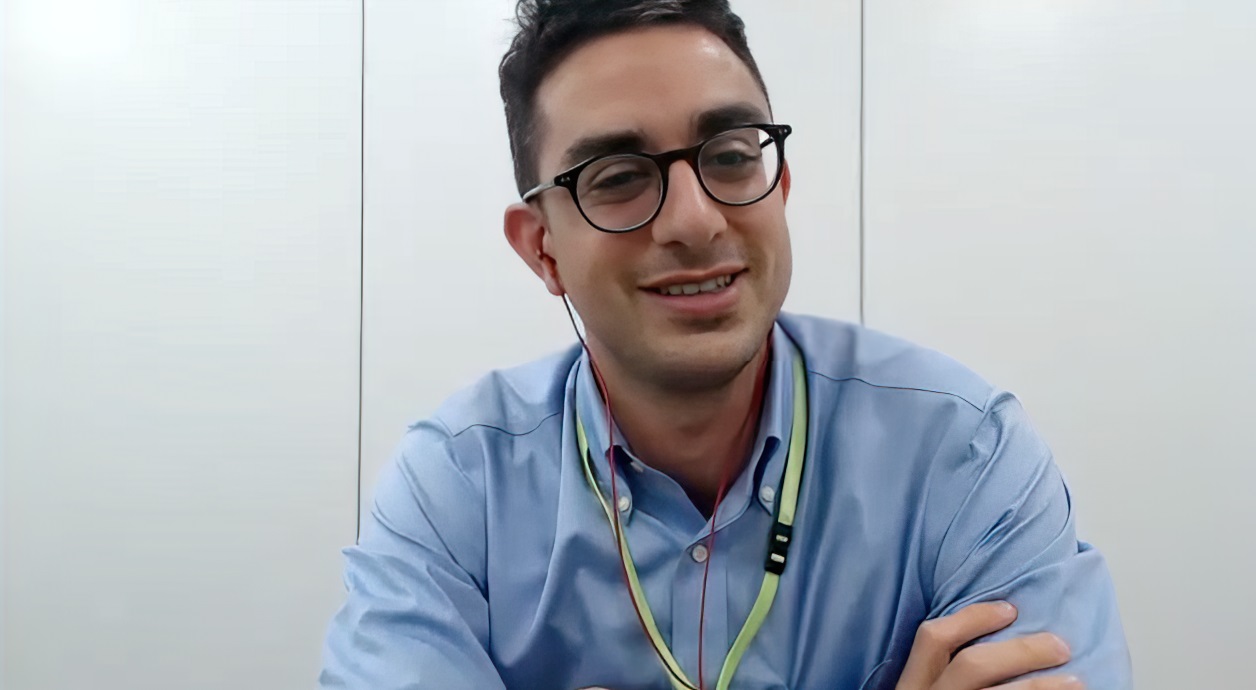 Elie at his office
Mariko: You're the first NERD in Kyoto member that I'm interviewing! Can you please explain in your own words what NERD in Kyoto is for those who aren't familiar?
Elie: NERD in Kyoto is about working in the Kyoto office. You get to see and be involved in how things are happening there. Being on site you can work directly with Japanese colleagues, and it's really cool to get to meet the people you were remotely working with. You can provide support to colleagues in France and Japan alike, and you have time to do experiments and iterate quickly.
Mariko: What made you want to become a NERD in Kyoto member?
Elie: I was curious about our headquarters. How work is done there. I joined NERD because I liked Nintendo, so it was a great opportunity for me.
Mariko: Do you speak in English with your team members?
Elie: Yes, people in my team can speak English so I speak in English.
Mariko: You've been a NERD in Kyoto member for three years now? What made you want to stay longer than a year?
Elie: Yes, it's been three years. Initially my mission was for one year. The schedule changed for the project I was working on, and that allowed me to stay for a little longer than what was planned. I like the fact that I can be closer to projects. I also enjoy Kyoto.
Mariko: What advice do you have for anyone who is interested to work in the headquarters?
Elie: My advice is to be open minded and be curious. NERD members are welcomed here. There are many people who speak English so don't worry about your Japanese. You can learn at your own pace.
Mariko: What's your Japanese level now?
Elie: I passed the N2 (Japanese-Language Proficiency Test) last year.
Mariko: Congratulations!
Elie: Thank you. Now I'm really focusing on practicing reading and keeping up working on kanji.
Mariko: Do you think speaking a little bit of Japanese helps you with your day-to-day life?
Elie: Of course. Even at work. I forgot to mention it but one reason I considered staying is because I felt quite happy with the progress I was making in Japanese. I was looking forward to trying to interact more in Japanese with people here.
Mariko: What's a typical day for you?
Elie: I arrive at the office at 9:30. Then I have a coffee. Afterwards I check messages and emails. There is a time difference, so I usually see emails and updates from NERD. Then I start working on my project. I sync up with headquarter members every two weeks. I also have a meeting with my NERD team once a week. I finish work at 18:30.
Mariko: What made you want to join NERD? You said you like Nintendo, is that why?
Elie: Yes, it's that simple (laughs). I joined NERD right after engineering school. I wanted to push myself and work in a technically challenging environment. NERD is working on state-of-the-art technologies doing research and innovation. It's an ideal environment for a software engineer.
Mariko: You're known to be quite the gamer. What game are you playing right now?
Elie: Right now, Mario Kart 8 Deluxe because of the additional circuits. We used to play this a lot at NERD during lunch time. I don't know if the trend was revived.
Mariko: At the moment, people are mostly playing Super Smash Bros. Ultimate in the kitchen during lunch time. Tetris 99 is also still popular.
Mariko: What is your favorite console?
Elie: I would say the Nintendo GameCube. It's more about nostalgia and personal experience. For me, it had some of the best Nintendo games, and plenty of third-party games. The design and shape are also really playful. It's this cute cube, small game discs and purple. The controller is also really colorful as well with unique buttons. It's so great that everyone still asks for it whenever there is a new Super Smash Bros. (laughs).
Mariko: What was your first game?
Elie: The first game… I think it was Super Mario Bros. on the Nintendo Entertainment System.
Mariko: Oh OK… Wait, aren't you too young for Super Mario Bros. to be your first game?
Elie: Yes, but it was at a friend's house. I got to play a lot.
Mariko: Other than games, what are your current hobbies?
Elie: I think my biggest current hobby is soccer. I joined the Nintendo team!
Mariko: It seems you're really enjoying your time in Kyoto!